Measurement, collection, reporting, and analysis
Web Analytics evaluates website visitor behavior
Utilizing Web Analytics can help businesses attract new customers for goods or servicesengage more website visitors, or increase the volume of dollars that customers spend. Triforce Media provides Web Analytics Service that guarantees efficient and beneficial results for your business!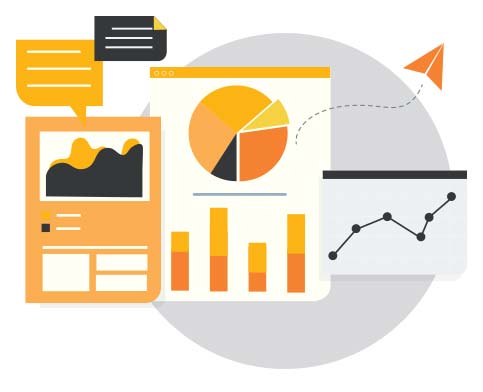 Deliverables you can expect:
Audits & Recommendations
We will ensure your analytics system is properly implemented while eliminating data gaps and aligning with marketing goals. As well as provide recommendations on key performance indicators and tagging requirements.
Dashboard Setup
Provide key performance charts and trending analysis, reporting integration across multiple sources such as paid search, social media, organic traffic, salesforce integration.
Monthly Analytics Analysis
The data tells a story – what does all this information mean to your online goals and business?
CHECK YOUR WEBSITE SEO SCORE
How Your Website Is Performing?
What can Web Analytics do for you?
Let Triforce Media Show You the Right Way Towards Web Analytics! Turn Your Business into a Success!

Better Understand Visitor Numbers
Web Analytics provide details regarding visitor numbers. This will lead businesses to learn about customer behavior and gain more insight. By being able to understand these numbers, you will have a better chance of improving your current state.

Optimize and Improve Your Site
By being able to measure your performance through Web Analytics, you will be able to improve your actual website in a more effective and accurate way. Gathered data will provide you with key factors for analysis affecting ROI and other related performance elements.

Effectively Measure Conversions
Conversions are actually actions that you want site visitors to take, usually, to buy your product. Conversions are critical for measuring the success of your site in relation to meeting your goals.
Types of Web Analytics
Off-site Web Analytics
It is the act of measuring web activity regardless of whether you own or maintain a website. It covers the measurement of a website's potential audience (or opportunity), visibility, and buzz (through comments) that is happening on the net as a whole (Examples of off-site analytics would be Facebook, Twitter, LinkedIn, etc).
On-site Web Analytics
It measures a visitor's behavior or activity once he or she is on your website. This covers the conversions and their sources; (for example, the degree to which different landing pages are associated with customer purchasing something). On-site analytics also looks at the performance of your website. The data gathered from Google Analytics should be compared against key performance indicators and utilized to improve a web site or marketing campaign's audience response. Google Analytics is the most popular on-site web analytics service; but new tools are coming out that provide additional sources of data, including session replay and heat maps.
Hybrid Types of Web Analytics
Email Marketing Analytics

Tell us about your project
Our team of professional SEO experts is the perfect partner for a successful business partnership.